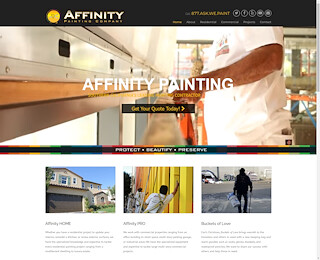 Applying a fresh coat of paint to your home will beautify the property, enhance the curb appeal, and increase the value. At Affinity Painting Company, we specialize in providing excellent, top class, residential, and commercial painting services.
Our trusted experts can paint both the interior and exterior of various properties, including Single-Family House, Office, Duplex, Restaurant, Multi-Family House, Condominiums, and so forth. Whether you are painting your new Long Beach home or repainting your old home, we are the ideal painting contractor in Long Beach, CA, to always call upon.
What Do Painting Contractors Do?
Painting contractors provide professional painting services. They are the professionals you need when you have a painting project and want it to be handled the right way. Their duty is not just to paint but to offer complete painting solution for all kinds of residential and commercial projects. Specifically, painting contractors will perform the following duties:
Estimation: This is to determine the cost implication of painting your project. In most instances, this is the service that will determine whether a painting contractor is hired or not. Most property owners and professionals that work in property management companies ask different painting contractors for estimations and use them as the basis in choosing a contractor to handle their project.
Planning: This is another crucial duty performed by painting contractors. Once their bids have been accepted, they take over the responsibility of planning for the painting contract. They may meet with the customers to discuss a few more details of the project, but they will now have to handle planning for the project.
Preparation: This involves getting everything ready for actual painting. At this stage, there may be a need to fill cracks or holes, remove items from the property, and remove worn, peeling or flaking old paint. Suitable primer may be applied to the surface at this stage.
Painting: This is primarily the most important aspect of the project. The contractor will ensure that your property is properly painted to achieve the desired finish. Several layers of paints may need to be applied to get what is needed.
How Do I Hire A Reputable Painting Contractor For My Project?
There are lots of painting contractors out there. To get the best experience, you will have to hire a reputable contractor for your project. This can be a little tough, considering that there are lots of potential contractors to choose from. The following tips, however, can be helpful:
Get references from general contractors, as well as friends and family members that have worked with painting contractors recently
Choose only a licensed and insured contractor
Compare different contractors before choosing one
Meet with few contractors face to face
Check for online reviews and ratings
Look at the package carefully to see if it has extra services you really need.
Need Painting Contractor in Long Beach? Contact Us Today!
Contact us today at Affinity Painting Company to get a quote for your painting project. Our services are affordable and well detailed. Our expert painters only use the best quality paints and materials to execute your project. We guarantee you quality and excellent services.