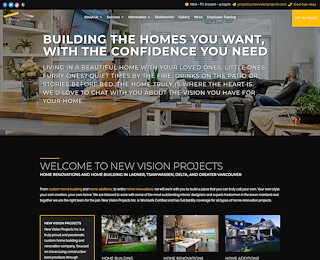 Are you searching for a kitchen renovations expert in the Tsawwassen area? Call New Vision Projects at 604-690-1694 to find out what they can do for your kitchen. If you've been thinking about a new floor plan, new appliances or a complete renovation of your kitchen area, New Vision Project is up for the job.
The pros at New Vision Projects are proud to provide locals with their expertise and dedication in order to make their project the very best it can be. From kitchen and bath remodels to entire home renovations and additions, they are able to work closely with you to create a place you'll be able to call your own. New Vision works with some of the highest caliber of interior designers and tradesman in the region, making them the right team for your job.
Are you weighing out the costs involved in your kitchen renovation? Fear not. Homeowners are often surprised to learn that custom kitchen renovations in Tsawwassen are one of the wisest investments that can be made in the home, with almost the entire costs recovered when a home is sold. Consider a few of the other benefits you'll enjoy when you hire New Vision Projects:
- Home buyers looking at homes narrow down their search results by a few important aspects; one of them being the features found in the kitchen. New appliances, modern floor plans and functional counter space are commonly looked at before a home buyer will decide whether or not to take a closer look at a home. Your kitchen renovation can mean the difference between finding a quick buyer and sitting on the market for longer than necessary if you should decide to sell your home.
- The high costs of a kitchen renovation is a justifiable expense and can even be considered an investment in light of the value that it brings to a home- as well as the functional value it provides while you are living in your home. You simply cannot put a price on being able to enjoy your kitchen, especially one that has been built around your needs and desires.
- Are you lacking the space necessary to really enjoy your kitchen? Homeowners with kitchens that are not a good fit for them often find they are uninterested in spending time doing things they once considered highly enjoyable. If your countertops do not provide the space you need to bake or your older appliances do not maximize convenience in the kitchen, it may be time to speak with a specialist from New Vision Projects.
Determining your needs is the first step in making plans for a renovation. What are you lacking or finding ill-functioning? Addressing these questions will better assist your contractor in creating the kitchen of your dreams.
Call New Vision projects at 604-690-1964 to discuss your kitchen project. You'll find them to be experts in kitchen renovations in Tsawwassen and its surrounding areas, knowledgeable and accommodating with fresh ideas for your home. Call today to get started.
kitchen renovations Tsawwassen
We welcome your comments!
Follow Us To See What We've Been Doing
Catch up with us on social media and our blog, including Instagram, Facebook, and Houzz
As a Skilled Carpenter you will be part of an ambitious and hard-working team. You will play a supporting role for an established renovation and construction business directly under a Project Manager based out of South Delta. The role is physical and no two jobs are...
read more
high quality home renovations that will look great and increase the value of your home