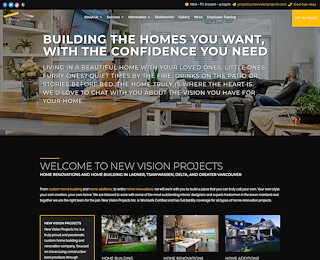 Are you weighing out the pros and cons of adding on versus moving? If you need more space, a home addition is the most affordable and convenient way to add space to the place where you already love to live.
For professional home additions in Delta, call New Vision Projects. They work with architects, engineers, designers and other professionals to ensure you get the results you have in mind at an affordable price. You may not have considered everything that must be incorporated into the building of an addition on to your home, including permits, by-laws, septic issues, site setbacks and many other details that surface along the way. Let the pros make it easy for you to expand beyond your current square footage.
As your general contractor, New Vision Projects will work with everyone involved in the process of adding on to ensure that the process is streamlined. Their experts take a lot of pride in planning, designing and building the most comfortable and functional spaces possible for their clients. No other home additions contractor in Delta can offer what they can!
Consider a few of the benefits associated with a home addition project that will make you a believer- it's the most affordable and convenient way to have the function and comfort you're looking for:
- Moving to a bigger home may not be the answer you've been seeking. The expense and inconvenience of moving is often more than anticipated while the results can prove less than desired. Once you take a few moments to look closely at the situation, it becomes rather obvious that adding on, regardless of what type of home addition you have in mind, will always be the more affordable option.
- Home additions throughout Delta are almost always about more space. If your family is growing, the first thing that should be considered is whether or not the outdoor space is ample enough to provide for an addition. Homeowners tend to forget that they own their outdoor space as well as their indoor space. An addition can be an affordable way to take advantage of a big yard that is underutilized.
- Home additions add value to your Delta home by increasing the square footage and improving on the function of the home. Home buyers first look at the square footage of a home before they begin the process of narrowing down their results by amenities that are included in the home. A larger floor plan will make a big difference in the price of your home and in the amount of time it takes to sell, should you decide later on to sell your home.
If you'd like a free quote for a home addition, visit online at NewVisionProjects.com and fill out their contact form to receive a quick quote. One of their specialists will be happy to discuss your needs with you and determine what will work best to meet your goals. Feel free to call New Vision Projects at 604-690-1694 with any questions.
home additions Delta
We welcome your comments!
Follow Us To See What We've Been Doing
Catch up with us on social media and our blog, including Instagram, Facebook, and Houzz
As a Skilled Carpenter you will be part of an ambitious and hard-working team. You will play a supporting role for an established renovation and construction business directly under a Project Manager based out of South Delta. The role is physical and no two jobs are...
read more
high quality home renovations that will look great and increase the value of your home