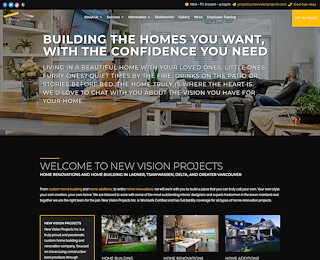 When you decide to remodel your home, planning is essential to achieving a successful outcome. It's not merely about putting your style in the area of the house you want to change. When you renovate a space, you have an excellent opportunity to improve the area.
In the selection process of the contractor for the renovation, there are some vital issues that you should review together. An excellent renovation company like New Vision Projects will be able to bring their expertise to help you refine the project. This way, you will enjoy a home to your liking, and better designed.
Designing an Awesome Renovation
Lighting
When planning a renovation consider using as most natural lightning as possible, to bring the environment to life. In that sense, discuss with your contractor the different architectural resources such as windows, skylights, and openings. Giving access to the sun's rays will provide you with a cozy space, which will also save electricity.
About artificial lighting, you should also make an evaluation. First, determine if the current lights in the space to be remodeled are enough. In case you need a little more light, you must decide whether it is enough to change the lamps, or if you also need to place some more.
Materials
About the materials to be used in the project, it is essential to make two considerations. First, you must reach an agreement with your service provider regarding the quality of the raw material to be used. Your budget may not be enough for 100% of these items to be premium. In that case, consult the contractor to make a selection with the best price/value ratio.
Secondly, you should consider the materials with which space is built. One of the purposes of remodeling is always to modernize, but you have to be careful. It is essential that the new that you place does not contrast radically with the previous. Look for a balance, generating the least possible difference between the old and the new. If you need assistance for your home remodeling in White Rock contact us; at New Vision Projects we will be happy to advise you.
Facades
If the remodeling includes the front of your home, always keep on sight that you must preserve harmony, both in shapes and colors. An excellent resource is to apply the proportion of thirds, that is, divide the facade in three and combine it smoothly. Also, a good strategy with the paintings can help you.
Prefer Natural
When selecting materials, always try to use natural elements. Stones, tiles, ceramics, wood will give much value to the property, so it is better to avoid imitations. These details will provide that special touch, and are a symbol of quality.
Trust the Experts
If you want to do an extraordinary home remodeling in White Rock, the staff of New Visions Projects is ready to help you achieve this unique environment. Do your renovation with the help of the company that won the 2018 Georgie housing awards. We assure you that you will achieve a reconstruction far beyond your expectations. Contact us.
Home Remodeling White Rock
We welcome your comments!
Follow Us To See What We've Been Doing
Catch up with us on social media and our blog, including Instagram, Facebook, and Houzz
As a Skilled Carpenter you will be part of an ambitious and hard-working team. You will play a supporting role for an established renovation and construction business directly under a Project Manager based out of South Delta. The role is physical and no two jobs are...
read more
high quality home renovations that will look great and increase the value of your home