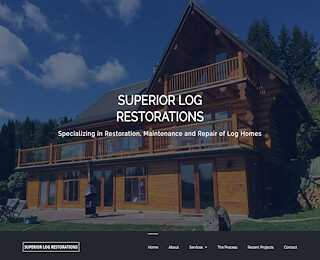 Log homes are beautiful and practical but they do require maintenance. Unlike traditional homes, log homes are made with natural materials that need to be maintained and restored from time to time. Log home maintenance on Vancouver Island is best completed by a professional. Your home requires regular inspections to ensure that it is kept strong and safe and that any repairs are made quickly.
Log Home Maintenance on Vancouver Island
Your home is your castle and you can keep it looking and performing properly with regular care. You need to properly provide log home maintenance on Vancouver Island to protect your investment. As with any other type of home, regular maintenance is key to maintaining the integrity of the structure.
Regular upkeep will protect your home and extend its life. Some of the concerns of log home owners include UV radiation, water damage, air infiltration and infestations of insects or rodents. In addition, you want to make sure that your home looks as beautiful as the day it was built. Over time, weather conditions and light can damage your home. You can get it properly restored with regular log home maintenance on Vancouver Island.
An inspection is the best way to find out exactly what is needed to maintain or repair your home and keep it functioning properly. A review of your log home by a professional will determine what needs to be done as well as the costs for repairs when needed.
Professional Log Home Repairs
When your log home needs repairs it is best to have them done by a professional with plenty of experience. Log home maintenance on Vancouver Island is a skill that is learned through years of training and experience. Our team of professionals has been working with log homes for years and has the expertise necessary to handle any type of job both large and small.
One of the most common problems that occurs with most log homes is gapping that happens between the logs. When your home is first built the logs fit tightly together. As time goes on, logs expand and contract with the weather and gaps form between them. These gaps require repair in a process known as chinking.
Chinking seals the gaps that have formed between logs and provides your home with the type of seal that it requires. It can be a mistake to try to repair this type of problem on your own. Instead, leave it to an expert. New, updated materials are used in chinking that make the repairs better than ever.
When one or more of the logs of your home become damaged or rotten they may need to be replaced. Replacing logs in your home may seem like a difficult task but it is something that a professional maintenance and repair company can handle. It is best to resolve problems as early as possible before they worsen. Our experts are here to assist you in keeping your log home looking and functioning at its best.